Ship model San Francisco II, historic wooden static kit Artesania Latina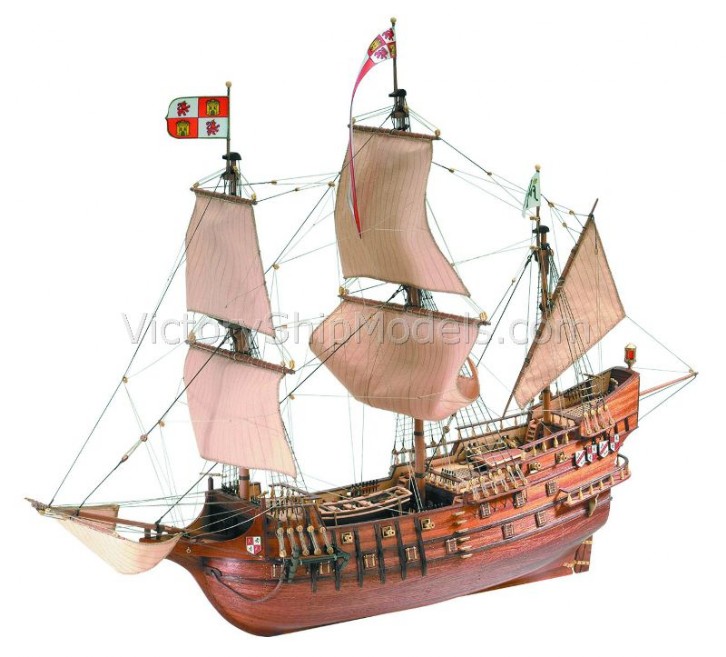 Specification
Scale 1:90


Length: 680 mm


Height: 520 mm


Difficulty: 2


Part No.: AL22452N

Benefits
Next model discount


Historic map discount

San Francisco II ship model
She was the most fearsome ship of the Spanish Armada.

Scale 1:90, Length: 680 mm, Height: 520 mm
Display scale kit difficulty: 2

Ship history
San Francisco II Spanish Galeon S. XV kit. The most fearsome ships of the Spanish Armada were her galleons, sailing ships that first appeared in the middle of the 16th century and which were, for a hundred and fifty years, the warships par excellence. The San Francisco II was one of the most outstanding of its age.

Scale kit description
The kit features the following: This intermediate kit would be suitable for anyone who has previous model building experience.
The kid features hand sewn main, top, stay and fore sails. All-wood construction features plywood and boxwood. Brass hardware, such as blocks, eyebolts, fore-sheet bars, pinrack, set of thread and much more are included.

CAUTION!! Although these are high quality ship model kits, they may not be suitable for some one not familiar with building of wooden model ship kits. See more.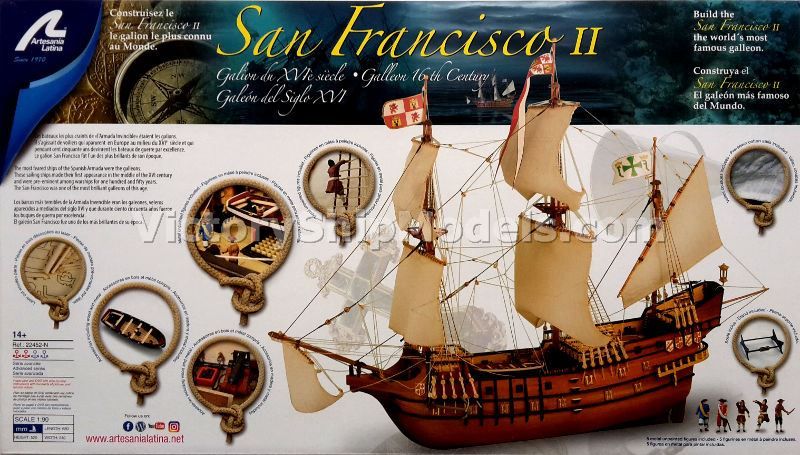 Ship model San Francisco II is favorite wooden scale kit from Artesania latina manufacturer. It is popular for its good quality and the customers often buy it as a valuable and nice gift. Scale model kit an San Francisco II from Artesania Latina contains necessary building material and parts. That is why the modeler can focused only on building of this nice wooden tall ship model. Victoryshipmodels.com selects and offer only the best ship model kits. Ship model an San Francisco II is one of them.

Retail box in pictures - overview
Wooden planks and parts, accessories, documentation.