Ship model Cutty Sark, historic wooden static kit Artesania Latina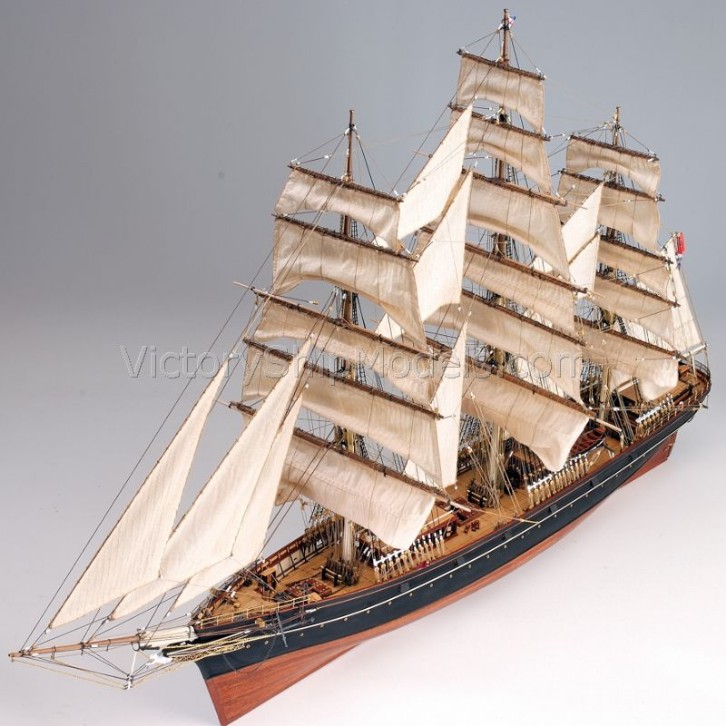 Specification
Scale 1:84


Length: 1032 mm


Height: 624 mm


Difficulty: 3


Part No.: AL22800

Benefits
Next model discount


Historic map discount

Cutty Sark ship model
The unique elegance of his line, his incredible speed and wealth of its details has made the Cutty Sark a universal legend.

Scale 1:84, Length: 1032 mm, Height: 624 mm
Display scale kit difficulty: 3

Ship history
The Cutty Sark is a clipper built in 1869 in Dumbarton (Scotland). He was assigned to the then very lucrative and competitive tea trade with a race around the world to be the first to unite China every year to London. With the opening of the Suez Canal, the clippers were removed from the trade in favor of the first steamships. The Cutty Sark was then destined to trade wool in Australia and subsequently sold in 1895 to a Portuguese company. After more than half a century wandering through Europe and South Africa, was finally bought by the British in 1954, restored and displayed to the public in a dry dock, specially designed in Greenwich (London). The unique elegance of his line, his incredible speed and wealth of its details has made the Cutty Sark a universal legend.

Scale kit description
The kit features the following: This advanced kit is suitable for ship kit builders who previously built two or more models of a similar style.
Artesania Latina's elaborate kit features plank-on-bulkhead construction with pre-cut plywood frames and keel. Individual walnut planking strips cover the hull. Molded formers assure proper bow and stern shape. Ready-to-use fittings are plentiful in a variety of fine hardwoods, bronzed cast metal, white metal, and brass. Pre-printed flags, cotton sail material, and several diameters of standing and running rigging are all included. Detailed plans and instruction book make building a pleasure.

CAUTION!! Although these are high quality ship model kits, they may not be suitable for some one not familiar with building of wooden model ship kits. See more.

Ship model Cutty Sark Ana is favorite wooden scale kit from Artesania latina manufacturer. It is popular for its good quality and the customers often buy it as a valuable and nice gift. Scale model kit an Cutty Sark from Artesania Latina contains necessary building material and parts. That is why the modeler can focused only on building of this nice wooden tall ship model. Victoryshipmodels.com selects and offer only the best ship model kits. Ship model an Cutty Sark is one of them.