Ship model Le Renard, historic wooden static kit Artesania Latina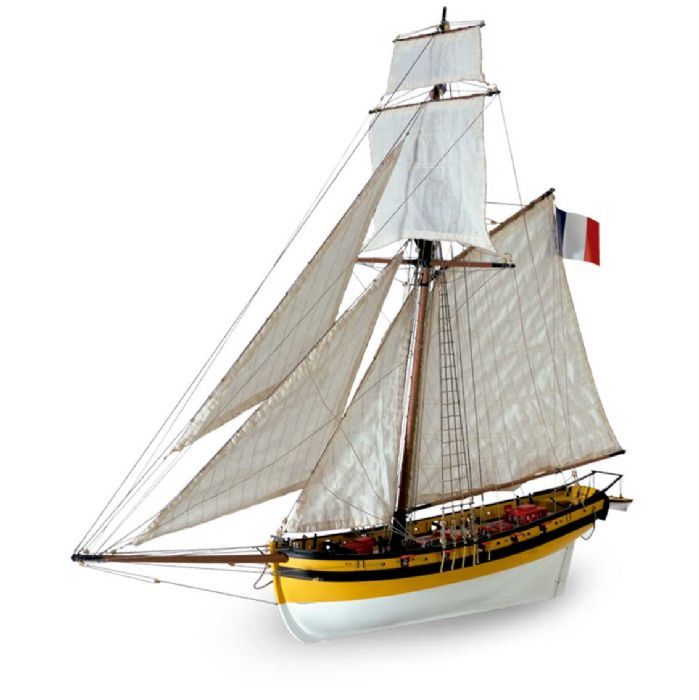 Specification
Scale 1:50


Length: 615 mm


Height: 560 mm


Difficulty: 2


Part No.: AL22401

Benefits
Next model discount


Historic map discount

Le Renard ship model
The Renard was a cutter launched in 1812 in Saint Malo and armed and owned by privateer Robert Surcouf. She was his eighth and last privateer ship.

Scale 1:50 Length: 615 mm, Height: 560 mm
Display scale kit difficulty: 2

Ship history
The Renard was a cutter launched in 1812 in Saint Malo and armed and owned by privateer Robert Surcouf. She was his eighth and last privateer ship.
Renard cruised under Captain Aimable Sauveur until 23 August 1813, when he required a replacement. Command then went to Emmanuel Leroux-Desrochettes.
On 9 September 1812, beginning at 5 p.m. and lasting through the night, Renard successfully engaged the British 10-gun schooner HMS Alphea, crewed by 35 sailors. Combat was intense and bloody until at 3:30 a.m. the following morning, when the Alphea took two direct hits from Renard to (presumably) the powder magazine and exploded. There were no reported survivors. Renard lost five men killed and 31 wounded, including her captain,[3] who had an arm shot away and later died of his injuries. Renard returned to France with only 13 able-bodied men. Alphea had carried a crew of 41 men.

Scale kit description
The kit features the following: This intermediate kit would be suitable for anyone who has previous model building experience.
The kid features hand sewn main, top, stay and fore sails. All-wood construction features plywood and boxwood. Brass hardware, such as blocks, eyebolts, fore-sheet bars, pinrack, set of thread and much more are included.

CAUTION!! Although these are high quality ship model kits, they may not be suitable for some one not familiar with building of wooden model ship kits. See more.