Ship model Mayflower, historic wooden static kit Artesania Latina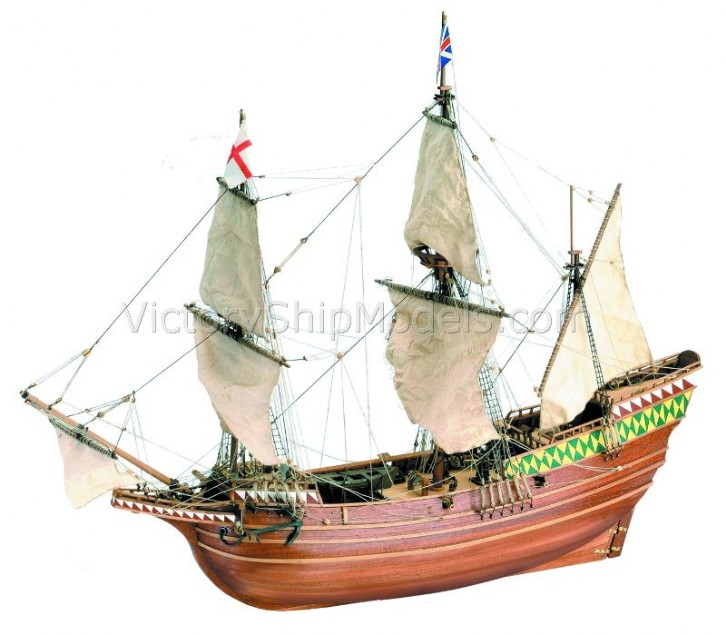 Specification
Scale 1:54


Length: 605 mm


Height: 500 mm


Difficulty: 2


Part No.: AL22451

Benefits
Next model discount


Historic map discount

Mayflower ship model
In 1620 the English galleon Mayflower set out from the port of Southampton with 102 pilgrims on board to Plymouth.

Scale 1:54, Length: 605 mm, Height: 500 mm
Display scale kit difficulty: 2

Ship history
In 1620 the English galleon Mayflower set out from the port of Southampton with 102 pilgrims on board. Because of bad weather, the crossing took 77 days. On December 21 the ship landed at what is today Plymouth, Massachusetts. She was destroyed on her return trip to England in 1624.

Scale kit description
The kit features the following: This intermediate kit would be suitable for anyone who has previous model building experience.
Artesania Latina has built a reputation on high quality kits supported by detailed plans and easy-to-follow instructions that show every step of the construction process. The new Mayflower is no exception. It features double plank-on-frame construction in lime wood and walnut. All wooden parts are pre-cut for your convenience, and the fittings package includes everything you need for outfitting your model. Blocks, deadeyes, anchor stock and other wooden fittings are pre-finished and ready to use. Metal parts include brass eyebolts, bell and chain and much more. Six turned brass cannon sit on wooden carriages. Lifeboat is complete with deck and rudder. Several diameters of rigging line and silk-screened flags assure a realistic model. Pre-sewn sails are included.

CAUTION!! Although these are high quality ship model kits, they may not be suitable for some one not familiar with building of wooden model ship kits. See more.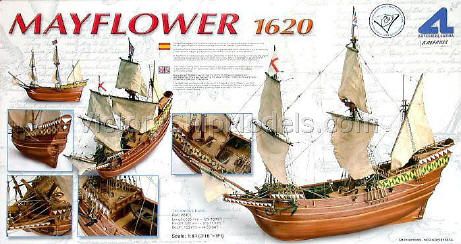 Ship model Mayflower is favorite wooden scale kit from Artesania latina manufacturer. It is popular for its good quality and the customers often buy it as a valuable and nice gift. Scale model kit Mayflower from Artesania Latina contains necessary building material and parts. That is why the modeler can focused only on building of this nice wooden tall ship model. Victoryshipmodels.com selects and offer only the best ship model kits. Ship model Mayflower is one of them.