Ship model US Constellation, historic wooden static kit Artesania Latina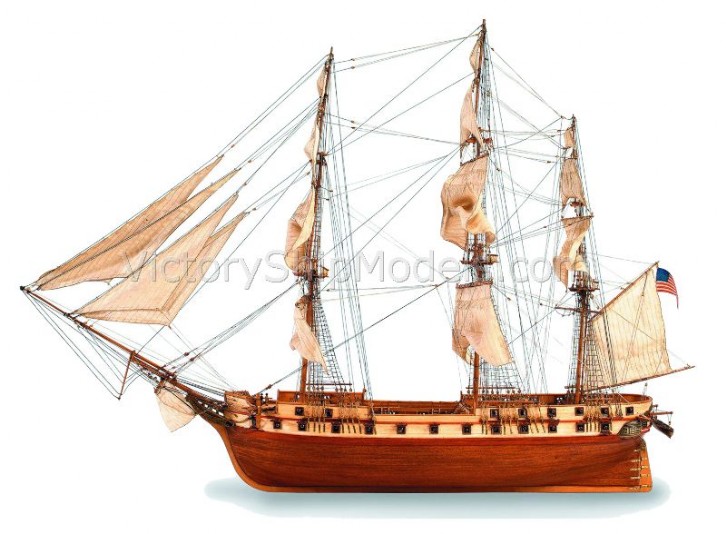 Specification
Scale 1:85


Length: 1035 mm


Height: 710 mm


Difficulty: 2


Part No.: AL22850

Benefits
Next model discount


Historic map discount

Constallation ship model
Constellation was famous American frigate with many diverse activities.

Scale 1:85, Length: 1035 mm, Height: 710 mm
Display scale kit difficulty: 2

Ship history
It is difficult to encounter in the history of sailing vessels a ship with so many diverse activities during her active life as the American frigate U.S. Constellation. In fact she started her active life in 1798 and was withdrawn from service in 1955. Her missions were various. She seized numerous ships, and defended the Hawaii Islands against annexation by the British in 1845 and 1849. She was also the first US warship to visit China in 1842 and was assigned as a school ship in 1871. Today she brings back glorious memories to tens of thousands of tourists who visit her each year in Baltimore. If she could talk, she could tell us a great deal of American History.

Scale kit description
The kit features the following: This intermediate kit would be suitable for anyone who has previous model building experience.
Artesania Latina's kit is double plank-on-bulkhead. It features brass hardware such as eyebolts, stanchions, rings, hinges and more. A highly detailed brass bow (figurehead) and stern parts are also included.The kit includes all hull planking strakes, masts, bowsprit, spools of rigging thread and all other necessary details. Pre-sewn sails ready for rigging are also included along with excellent plans and detailed instruction.

CAUTION!! Although these are high quality ship model kits, they may not be suitable for some one not familiar with building of wooden model ship kits. See more.

Ship model Constellation is favorite wooden scale kit from Artesania latina manufacturer. It is popular for its good quality and the customers often buy it as a valuable and nice gift. Scale model kit an Constellation from Artesania Latina contains necessary building material and parts. That is why the modeler can focused only on building of this nice wooden tall ship model. Victoryshipmodels.com selects and offer only the best ship model kits. Ship model an Constellation is one of them.