Ship model HMS Bounty, historic wooden static kit Artesania Latina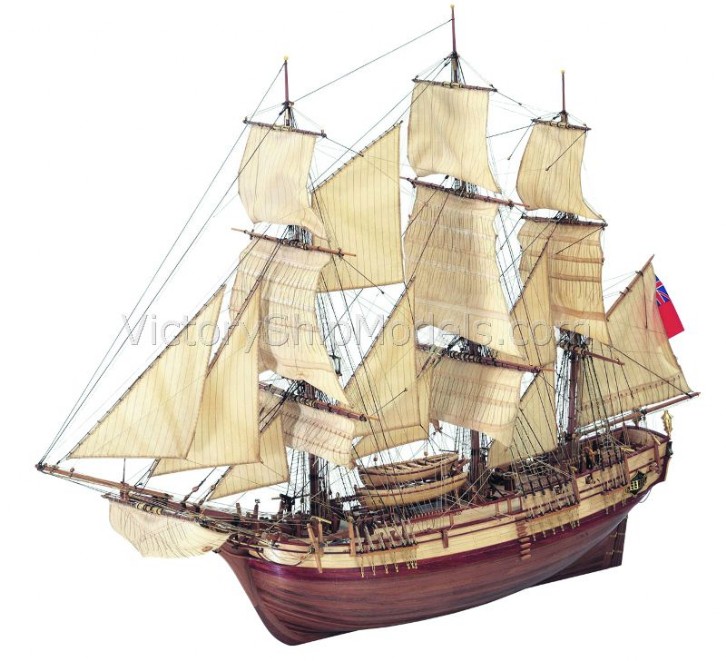 Specification
Scale 1:48


Length: 980 mm


Height: 763 mm


Difficulty: 3


Part No.: AL20810

Benefits
Next model discount


Historic map discount

Bounty ship model
English ship famous by crew mutiny.

Scale 1:48, Length: 980 mm, Height: 763 mm
Display scale kit difficulty: 3

Ship history
Bounty was made eternally famous by the mutiny against Captain William Bligh, on her way back from Tahiti in 1789. Bounty was a small merchant ship purchased and converted into a naval transport to carry breadfruit to the plantations of the West Indies.

Scale kit description
The kit features the following: This advanced kit is suitable for ship kit builders who previously built two or more models of a similar style. This kit is a fully finished planked model on one side, and a cut-away view on the other showing all decks, structural and internal details on the other.
Keel, bulkheads and other wooden parts are pre-cut the finished side of the hull is single planked in walnut and lime wood. An elaborate fittings set is complete with everything needed to outfit your model. Metal pieces include brass wire, chain, jackstay eyebolts, and belaying pins, backing links, rings, cast metal figurehead and photo-etched brass ornamentation. Armament consists of four brass cannons an 10 swivel guns. Laser cut grating, deadeyes and blocks come in a variety of hard woods. Interior details include lower decks, ladders, buckets barrels and more. You'll assemble the two ships boats using the bread and butter method before installing the frames and floor boards. A full complement of sails is pre-sewn and ready for mounting. Four diameters of rigging and silk screened flag are also included. Remarkably detailed plans on four large sheets and clearly written instructions accompanied by a 32 page book of color photographs show every phase of construction.

CAUTION!! Although these are high quality ship model kits, they may not be suitable for some one not familiar with building of wooden model ship kits. See more.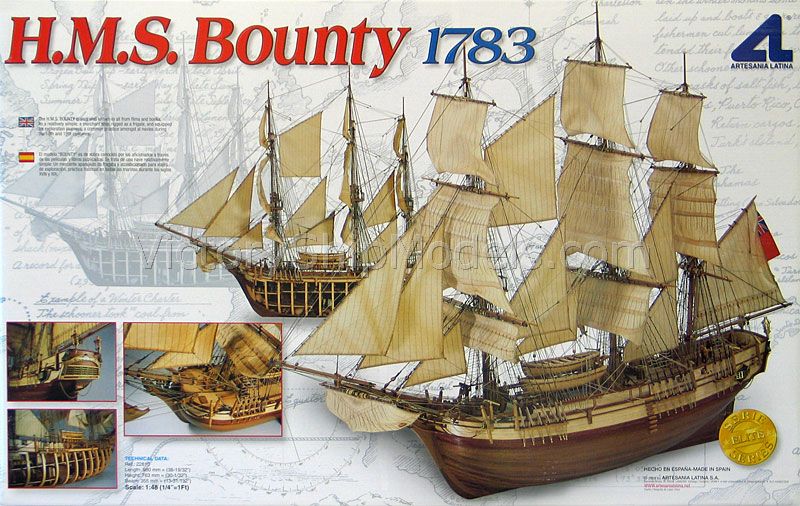 Ship model Bounty is favorite wooden scale kit from Artesania latina manufacturer. It is popular for its good quality and the customers often buy it as a valuable and nice gift. Scale model kit Bounty from Artesania Latina contains necessary building material and parts. That is why the modeler can focused only on building of this nice wooden tall ship model. Victoryshipmodels.com selects and offer only the best ship model kits. Ship model Bounty is one of them.

Retail box in pictures - overview
Wooden planks and parts, accessories, documentation.

Open box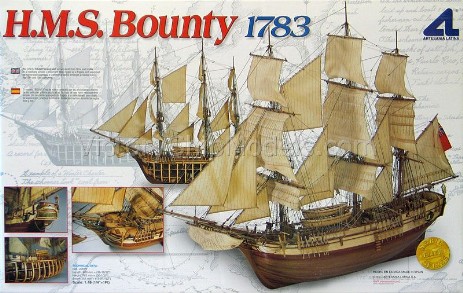 Wooden parts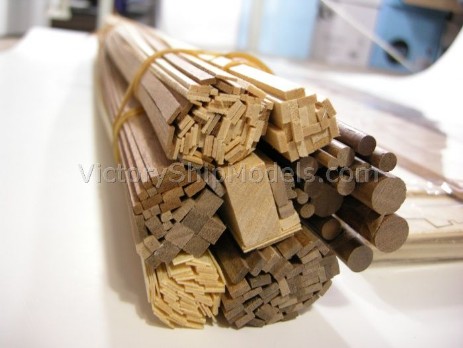 Accessories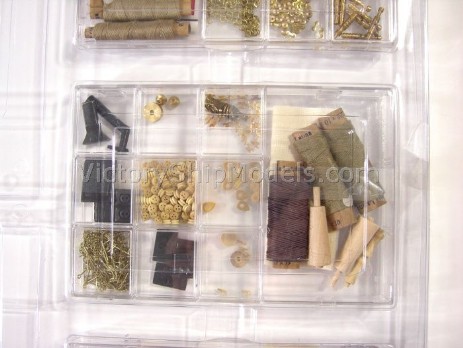 Documentation