Ship model S. J. Nepomuceno, historic wooden static kit Artesania Latina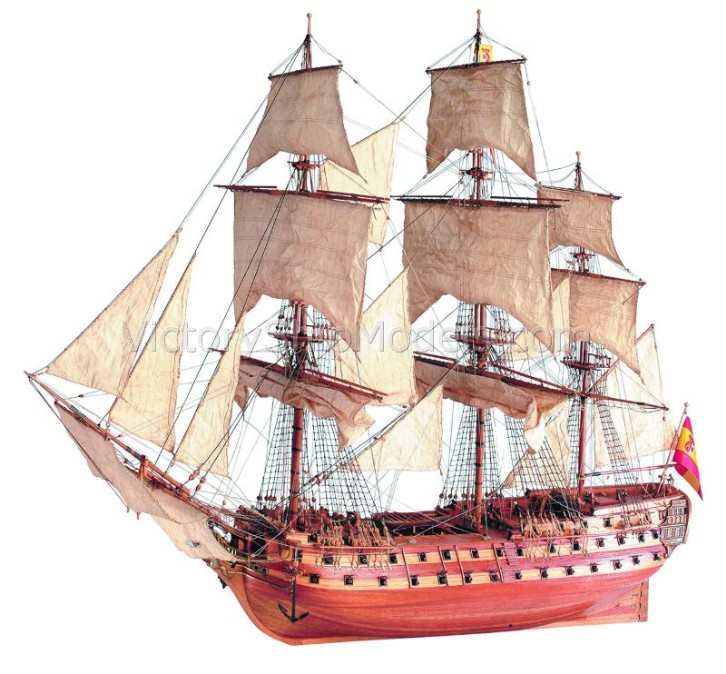 Specification
Scale 1:90


Length: 960 mm


Height: 750 mm


Difficulty: 3


Part No.: AL22860

Benefits
Next model discount


Historic map discount

San Juan Nepomuceno ship model
This 2700 ton Spanish galleon fought in the Battle of Trafalgar.

Scale 1:90, Length: 960 mm, Height: 750 mm
Display scale kit difficulty: 3

Ship history
Built in 1865, this 2700 ton Spanish galleon fought in the Battle of Trafalgar. Carrying 74 guns, she was one of the 15 French and Spanish ships battered into surrender as Lord Admiral Nelson lay wounded on the deck of the H.M.S. Victory.

Scale kit description
The kit features the following: This advanced kit is suitable for ship kit builders who previously built two or more models of a similar style.
Artesania Latina's elaborate kit features plank-on-bulkhead construction with pre-cut plywood frames and keel. Individual walnut planking strips cover the hull. Molded formers assure proper bow and stern shape. Ready-to-use fittings are plentiful in a variety of fine hardwoods, bronzed cast metal, white metal, and brass. Pre-printed flags, cotton sail material, and several diameters of standing and running rigging are all included. Three sheets of detailed plans and pictorial instruction book make building a pleasure.

CAUTION!! Although these are high quality ship model kits, they may not be suitable for some one not familiar with building of wooden model ship kits. See more.

Ship model San Juan Nepomuceno is favorite wooden scale kit from Artesania latina manufacturer. It is popular for its good quality and the customers often buy it as a valuable and nice gift. Scale model kit an San Juan Nepomuceno from Artesania Latina contains necessary building material and parts. That is why the modeler can focused only on building of this nice wooden tall ship model. Victoryshipmodels.com selects and offer only the best ship model kits. Ship model an San Juan Nepomuceno is one of them.