Ship model Tonnant, historic wooden static kit Corel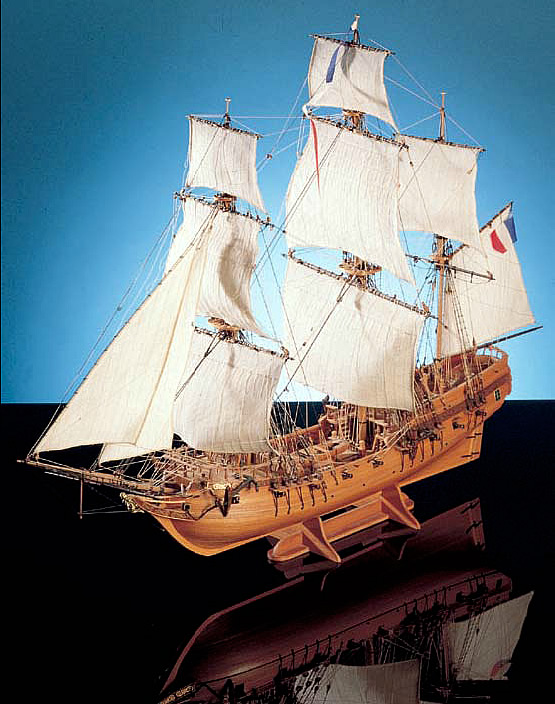 Specification
Scale 1:50


Length: 860 mm


Height: 595 mm


Difficulty: 2


Part No.: CO50

Tonnant ship model
Tonnant was small privateer's vessel from 18th century.

Scale 1:50 Length: 860 mm, Height: 595 mm
Display scale kit difficulty: 2

Ship history
In the last quarter of the 18th century, privateers were generally small fast merchant vessels. Carrying a large area of sail and highly armed with small caliber guns, unlike "pirate" ships, these vessels flew their national flag. The corvette Tonnant, a late 18th century French privateer, was particularly representative of this class of vessel. The fragmentary nature of the historical information available to us does not allow us to trace a complete history of this vessel and the fact that several sailing ships of this period bore the same name (for example, the much more famous 80-gunner which was sunk at Abukir in 1798) makes it difficult to be certain that any references actually refer to this ship.

Scale kit description
The kit features the following: This intermediate kit would be suitable for anyone who has previous model building experience. A plank on frame hull construction, building plans with general details, English instructions, lost wax brass castings walnut or lime planking, wooden masts and spars, brass and walnut fittings, etched.

CAUTION!! Although these are high quality ship model kits, they may not be suitable for some one not familiar with building of wooden model ship kits. See more.