Ship model Berlin, historic wooden static kit Corel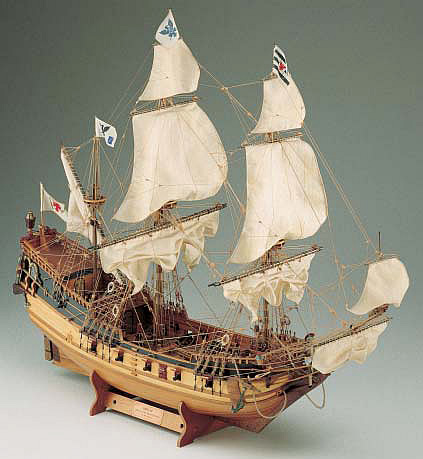 Specification
Scale 1:40


Length: 830 mm


Height: 690 mm


Difficulty: 3


Part No.: CO29

Barlin ship model
The Berlin was 17th century Brandenburg frigate.

Scale 1:40, Length: 830 mm, Height: 690 mm
Display scale kit difficulty: 3

Ship history
The Berlin was one of the first charter frigates put at the disposition of Frederic William by the Brandenburg Navy. Built in Zeeland in 1674, the vessel formed part of the Brandenburg fleet until 1688. The model reproduces the vessel down to the tiniest details. The ornaments of the poop-deck in gilded metal are particularly fine and the frame and planking of the hull are in precious wood.

Scale kit description
The kit features the following: This advanced kit is suitable for ship kit builders who previously built two or more models of a similar style. The box contains all the components already cut plus a wide range of accessories. The English instructions include 4 large life-size plates, and a full instruction book accompanied by a large number of diagrams and some photos of the model. A plank on frame hull construction, building plans with general details, lost wax brass castings walnut or lime planking, wooden masts and spars, brass and walnut fittings, etched.

CAUTION!! Although these are high quality ship model kits, they may not be suitable for some one not familiar with building of wooden model ship kits. See more.