Ship model Couronne, historic wooden static kit Corel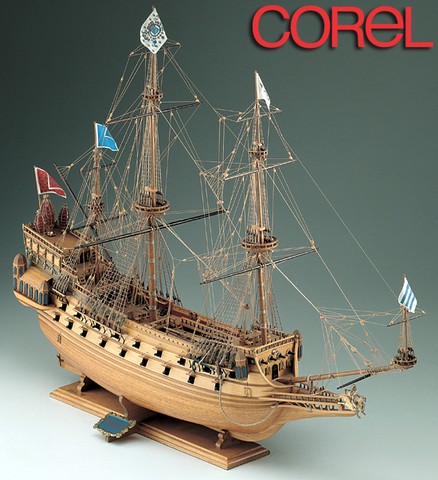 Specification
Scale 1:10


Length: 805 mm


Height: 615 mm


Difficulty: 3


Part No.: CO17

Couronne ship model
She was famous French war ship from 1636.

Scale 1:100, Length: 805 mm, Height: 615 mm
Display scale kit difficulty: 3

Ship history
The first great ship to be completely designed and constructed by the French. On the orders of Cardinal Richelieu, the work was entrusted to the famous master craftsman Charles Morieur of Dieppe. The ship was completed in 1636 in the La Roche Bernard shipyard and was one of the most imposing vessels of that time. Special attention was paid to the sculptural decoration of the ship which was carried out by sculptors in wood.

Scale kit description
The kit features the following: This advanced kit is suitable for ship kit builders who previously built two or more models of a similar style. Standard plank on frame hull construction, utilize walnut, and lime wood. Figure head & other ornamentations in cast or pressed brass. All dead eyes, blocks, etc. are in walnut. Flags printed on silk, standing & running in black & natural rope. All cannon, anchors, hinge & strops made in metal. Fully detailed building plans with English instructions. Using tested system of cross sections and double planking which characterizes most of our preparation of the components, this model is outstanding because of the quality and variety of the woods which have been used.

CAUTION!! Although these are high quality ship model kits, they may not be suitable for some one not familiar with building of wooden model ship kits. See more.