Ship model Sirene, historic wooden static kit Corel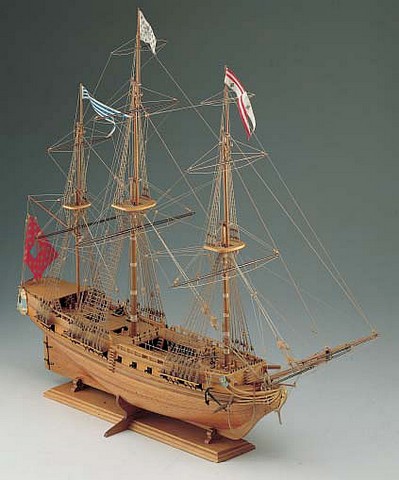 Specification
Scale 1:75


Length: 845 mm


Height: 720 mm


Difficulty: 2


Part No.: CO14

Sirene ship model
Sirene was French frigate of the middle of the 18th century.

Scale 1:75, Length: 845 mm, Height: 720 mm
Display scale kit difficulty: 2

Ship history
This 30 gun French frigate is famous because of its designer, the well-known naval architect Fredrik Chapman. In addition to the drawings, all the calculations relating to the construction and the hydrodynamic resistance of the vessel are provided in Chapman's "Architectura Navalis Mercatoria", published in Stockholm in 1768.

Scale kit description
The kit features the following: This intermediate kit would be suitable for anyone who has previous model building experience. Thanks to the fact that "everything is cut", the preparation of the components and the choice of woods, even those of you who are not experts can build a faithful reconstruction of this beautiful ship with our model, which is based on Chapman's plans. A plank on frame hull construction, building plans with general details, English instructions, lost wax brass castings walnut or lime planking, wooden masts and spars, brass and walnut fittings, etched.

CAUTION!! Although these are high quality ship model kits, they may not be suitable for some one not familiar with building of wooden model ship kits. See more.