Ship model Neptune, historic wooden static kit Corel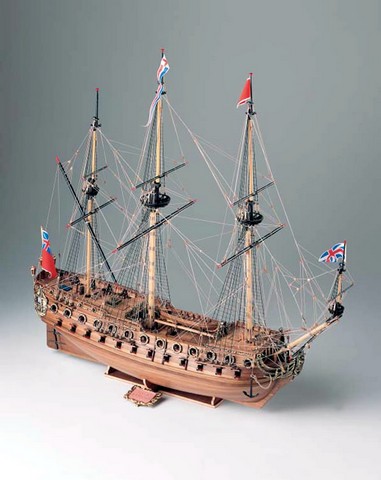 Specification
Scale 1:90


Length: 560 mm


Height: 615 mm


Difficulty: 2


Part No.: CO58

Neptune ship model
Neptune was a nice 50 canon warship from end of 1700.

Scale 1:90, Length: 560 mm, Height: 615 mm
Display scale kit difficulty: 2

Ship history
The Neptune, reconstructed on the basis of original shipyard models perfectly preserved in the Greenwich Naval Museum, represents a 3rd class vessel (55/60 canons), which took part in the battle at La Hougue on 2 June 1692, where the English fleet commanded by Admiral Rooke, defeated the French fleet commanded by Admiral Tourville. Neptune has decorations that are typical of the Royal vessels of the period and reproduces the decorative part of the famous Admiral Prince in a smaller scale. The vessel underwent major changes, in the same way as other similar ships: the spritsail mast therefore disappeared and the jib boom was added to the bowsprit, and the bumpkin booms and the yards for the topgallants were added to the topmasts.

Scale kit description
The kit features the following: This intermediate kit would be suitable for anyone who has previous model building experience. A plank on frame hull construction, building plans with general details, English instructions, lost wax brass castings walnut or lime planking, wooden masts and spars, brass and walnut fittings, etched. The NEPTUNE is an accurate reproduction in a 1:90 scale of a classic, fully-armed English vessel of the '700s - 58 canons - of which 26 on the lower deck, 24 on the main deck and 8 on the quarterdeck.

CAUTION!! Although these are high quality ship model kits, they may not be suitable for some one not familiar with building of wooden model ship kits. See more.