Ship model Mirage, historic wooden static kit Corel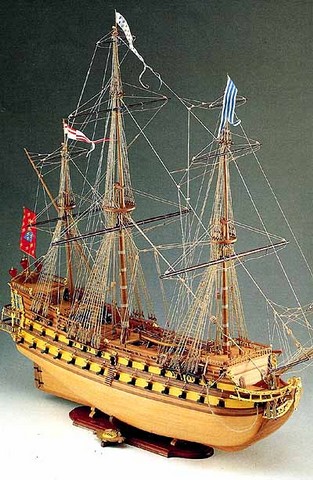 Specification
Scale 1:75


Length: 870 mm


Height: 790 mm


Difficulty: 2


Part No.: CO10

Mirage ship model
Mirage was French vessel from second half of the 17th century>

Scale 1:75, Length: 870 mm, Height: 790 mm
Display scale kit difficulty: 2

Ship history
The Mirage was a first rate flagship, armed with 84 guns, in service with the French Navy during the reign of Louis XIV.

Scale kit description
The kit features the following: This intermediate kit would be suitable for anyone who has previous model building experience. Thanks to Corel efforts and experience, we can offer our usual "ready-cut" components which are so carefully and perfectly finished that the firing hatches can be opened and closed. This is an absolute novelty in this field worthy of specific consideration, bearing in mind the difficulties encountered in the past with less detailed kits. The box contains all the materials prepared and ready for assembly, the relative accessories, the instructions plus a detailed diagram and an elegant base to support the finished model. A plank on frame hull construction, building plans with general details, English instructions, lost wax brass castings walnut or lime planking, wooden masts and spars, brass and walnut fittings, etched.

CAUTION!! Although these are high quality ship model kits, they may not be suitable for some one not familiar with building of wooden model ship kits. See more.