Ship model Dolphyn, historic wooden static kit Corel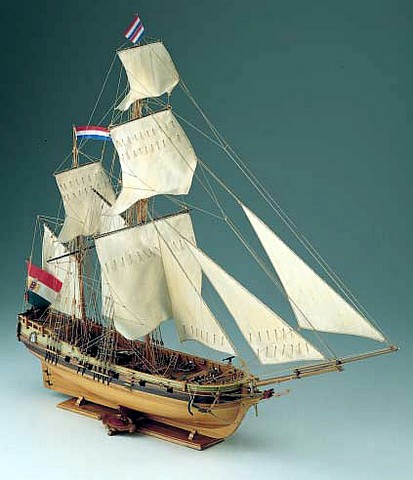 Specification
Scale 1:50


Length: 810 mm


Height: 685 mm


Difficulty: 2


Part No.: CO16

Dolphin ship model
Dolphyn was Dutch privateer ketch from 1750.

Scale 1:50, Length: 810 mm, Height: 685 mm
Display scale kit difficulty: 2

Ship history
An attractive ketch launched in 1750 armed with 10 cannon and 6 culverins.

Scale kit description
The kit features the following: This intermediate kit would be suitable for anyone who has previous model building experience. This privateer is easy to assemble thanks to the clear construction drawings, detailed instructions and the fact that all the components are prefabricated. The relatively large scale has enabled us to reproduce faithfully the numerous superstructures and decorations. A plank on frame hull construction, building plans with general details, English instructions, lost wax brass castings walnut or lime planking, wooden masts and spars, brass and walnut fittings, etched.

CAUTION!! Although these are high quality ship model kits, they may not be suitable for some one not familiar with building of wooden model ship kits. See more.