Ship model HM Cutter Sherbourne, historic wooden static kit Jotika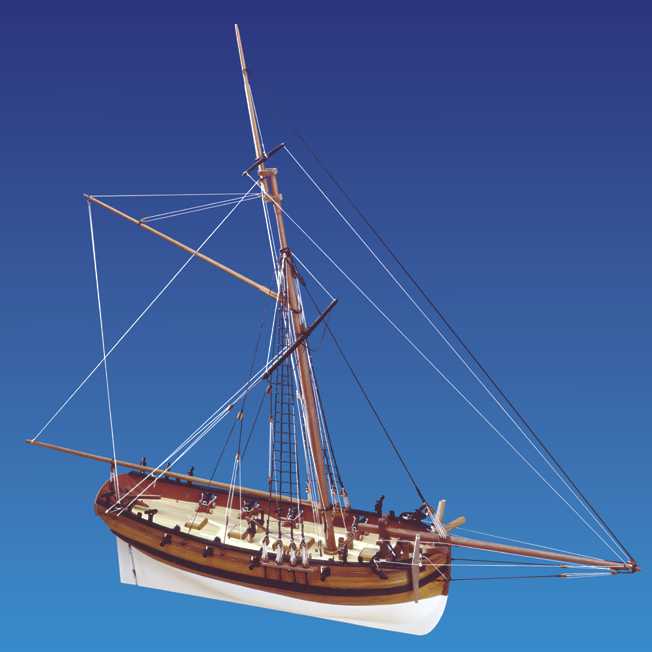 Specification
Scale 1:64


Length: 500 mm


Height: 485 mm


Difficulty: 2


Part No.: JO9010

Benefits
Next model discount


Historic map discount

Sherbourne ship model
The Sherbourne was built as a revenue vessel for the Customs Service.

Scale 1:64, Length: 500 mm, Height: 485 mm
Display scale kit difficulty: 2

Ship history
Cutters evolved during the second quarter of the Eighteenth Century in Southeast England as swift channel vessels. They soon gained a deserved reputation for their speed, which was not unnoticed by smugglers who soon adopted the Cutter as their preferred smuggling craft. In turn, Cutters were employed by the British Customs Service to counter the smugglers. Cutters carried a large disproportional area of sail for their size and also served as advice yachts, packet boats and, during wartime, privateers. The Sherbourne was built as a revenue vessel for the Customs Service. She was designed by Sir Thomas Slade, the designer of the famous Victory and was built and launched in 1763. After over 20 years of service, Sherbourne was sold in 1784 ~ a remarkably long career for such a small vessel. Sherbourne was 54' 6" long, 19' wide and had a draught of 8' 11". She carried a compliment of 30 men and was 85 tons. Armament consisted of 8 x 3 pounder carriage guns and 10 swivel guns.

Scale kit description
The kit features the following: This intermediate kit would be suitable for anyone who has previous model building experience. Kit includes 8 3pdr guns, 10 swivel guns; walnut CNC cut parts, double plank on bulkhead hull, black & natural hemp for rigging, full size plans and comprehensive instruction manual making this an ideal introduction to plank on bulkhead modeling.

CAUTION!! Although these are high quality ship model kits, they may not be suitable for some one not familiar with building of wooden model ship kits. See more.