Ship model HMS Cruiser, historic wooden static kit Jotika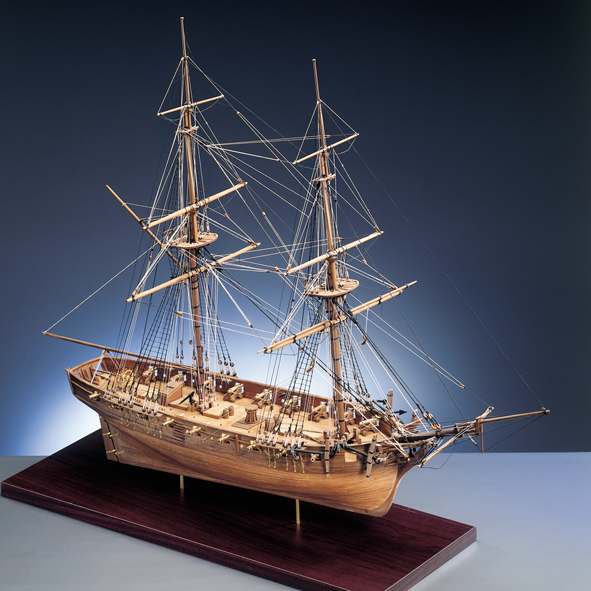 Specification
Scale 1:64


Length: 850 mm


Height: 610 mm


Difficulty: 2


Part No.: JO9001

Benefits
Next model discount


Historic map discount

Cruiser ship model
The Cruiser class played a very active role in the Napoleonic wars.

Scale 1:64, Length: 850 mm, Height: 610 mm
Display scale kit difficulty: 2


Ship history
The Cruiser class was brig rigged sloops and were the most numerous class of warships built in the age of sail. One hundred and three built in all from the Cruiser in 1797, to the Zebra in 1815. The Cruiser class played a very active role in the Napoleonic wars, from escort duty, reconnaissance and enemy convoy and inshore raiding. As originally built Cruiser had eighteen 6 pounder carriage guns but the ordnance was soon to change to sixteen 32 pounder carronades and two 6 pounder carriage guns. Class dimensions were: Length 100'; Breadth 30'6"; Displacement 382 tons with a crew of 121.

Scale kit description
The kit features the following: This intermediate kit would be suitable for anyone who has previous model building experience. Kit includes 18 brass 6 pdr guns, walnut CNC parts, double plank on bulkhead hull, black and natural hemp for rigging, full size plans and comprehensive instruction book. The Cruiser kit has been designed with the novice / intermediate builder in mind and has an estimated building time of around three months of evening work.

CAUTION!! Although these are high quality ship model kits, they may not be suitable for some one not familiar with building of wooden model ship kits. See more.