Ship model Endeavour, historic wooden static kit Jotika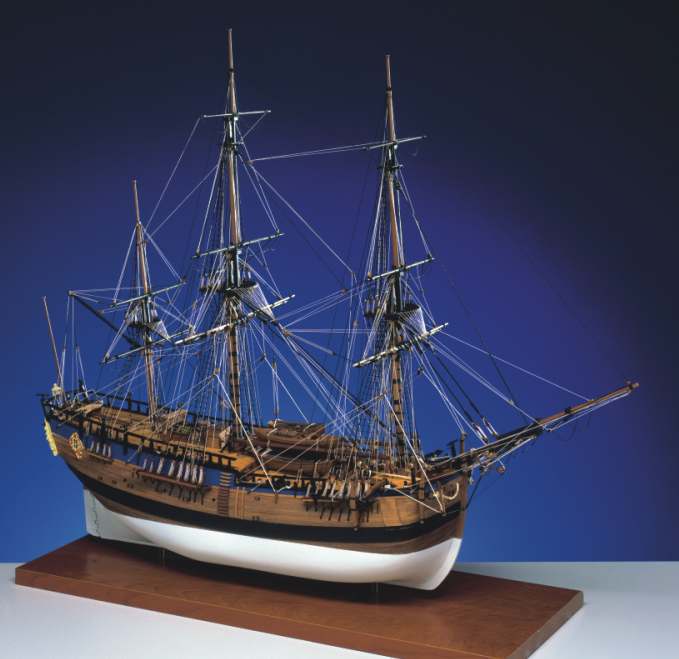 Specification
Scale 1:64


Length: 725 mm


Height: 590 mm


Difficulty: 2


Part No.: JO9006

Benefits
Next model discount


Historic map discount

Endeavour ship model
The Endeavour made famous by Captain James Cook's first historical voyage.

Scale 1:64, Length: 725 mm, Height: 590 mm
Display scale kit difficulty: 2

Ship history
The Endeavour, made famous by Captain James Cook's first historical voyage in her in 1768-71, was originally the Collier Earl of Pembroke. She was chosen for Cook's voyage because of her strong construction. She was purchased by the Royal Navy at Whitby and then converted to an exploration ship at Deptford.

Scale kit description
The kit features the following: This intermediate kit would be suitable for anyone who has previous model building experience. Kit includes CNC cut ply and walnut components throughout, double planking in lime and walnut, etched brass and turned brass fittings, cast decoration, rigging in black and natural, a set of four plank on frame ships boats, full set of detailed construction plans and instructions.

CAUTION!! Although these are high quality ship model kits, they may not be suitable for some one not familiar with building of wooden model ship kits. See more.

Ship model HM Endeavour is favorite wooden scale kit from Jotika manufacturer. It is popular for its excellent quality and the customers often buy it as a valuable and nice gift. Scale model kit HM Endeavour from Jotika contains necessary building material and parts. That is why the modeler can focused only on building of this nice wooden tall ship model. Victoryshipmodels.com selects and offer only the best ship model kits. Ship model HM Endeavour is one of them.

Retail box in pictures - overview
Wooden planks and parts, accessories, documentation.