Ship model HM Brig Supply, historic wooden static kit Jotika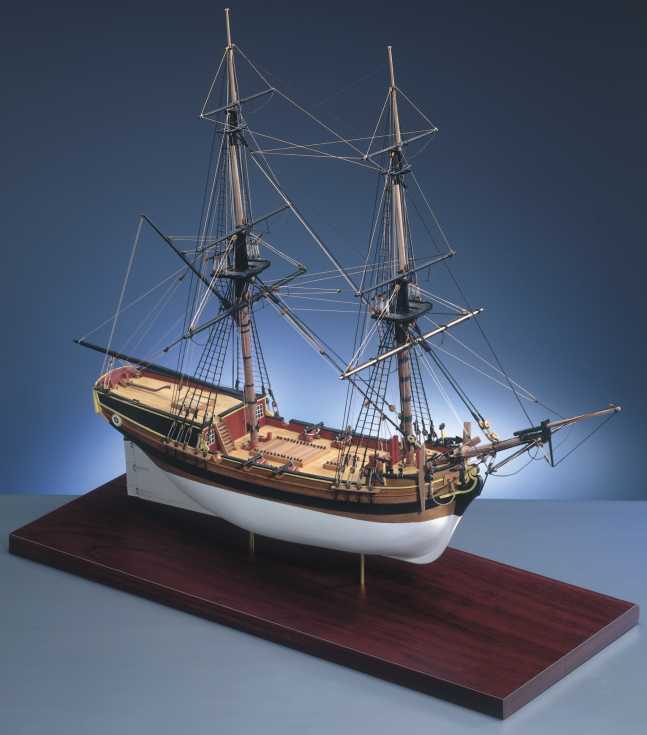 Specification
Scale 1:64


Length: 675 mm


Height: 520 mm


Difficulty: 2


Part No.: JO9006

Benefits
Next model discount


Historic map discount

HM Brig Supply ship model
HM Brig Supply is now known as the ship from which Australia was founded.

Scale 1:64, Length: 675 mm, Height: 520 mm
Display scale kit difficulty: 2

Ship history
H.M. Brig Supply was launched in 1759 as a Deptford yard transport. In 1786 she was converted to an armed tender. It is in her modified form that she wrote herself into history by arriving ahead of the first convict fleet in Australian waters. She was also the first to sail into Port Jackson. H.M. Brig Supply is now known as the ship from which Australia was founded.

Scale kit description
The kit features the following: This intermediate kit would be suitable for anyone who has previous model building experience. The kit of H.M. Brig Supply has been designed with the Novice builder in mind. The kit is extremely prefabricated with all the wooden parts CNC cut for extreme accuracy to ensure a perfect fit. Double plank on bulkhead construction, fittings include the cannons, anchors, windows, blocks etc. Rigging thread in natural and black is included. The kit instructions take you step by step through the construction process. Full size plans with exploded diagrams of the various sub-assemblies and comprehensive rigging drawings are provided to allow the first time builder to make a first class model.

CAUTION!! Although these are high quality ship model kits, they may not be suitable for some one not familiar with building of wooden model ship kits. See more.