Ship model HMS Jalouse, historic wooden static kit Jotika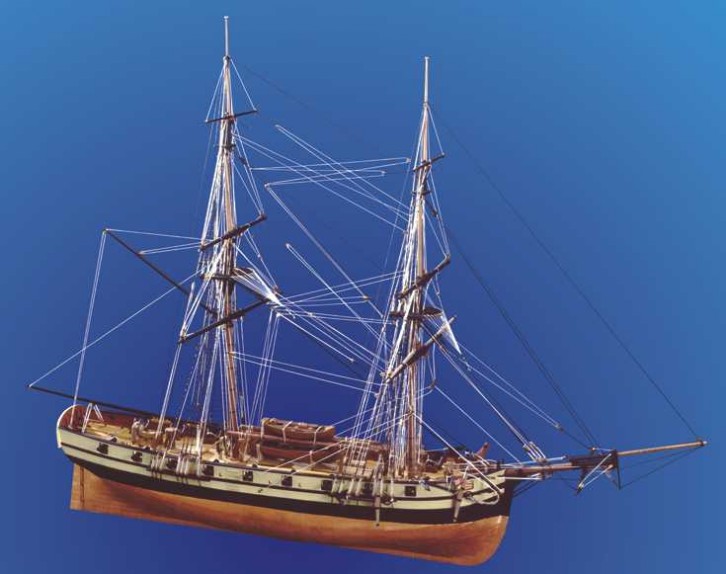 Specification
Scale 1:64


Length: 815 mm


Height: 600 mm


Difficulty: 2


Part No.: JO9007

Benefits
Next model discount


Historic map discount

Jalouse ship model
HMS Jalouse was a typical large French brig used for convoy.

Scale 1:64, Length: 815 mm, Height: 600 mm
Display scale kit difficulty: 2

Ship history
The French brig sloop La Jalouse was launched in Dunkirk in 1794. She is a typical large French brig used for convoy, raiding and escort duty. She was taken by the British vessel Vestal on 13th May 1797 and re-named Jalouse. She was then fitted out for duties in the Royal Navy. The only features that distinguished her as being of French origin were the 90° angle to the keel of the rudder post and the tops and crosstrees and trestletrees. After ten years in British service, she was broken up in 1807. Jalouse had a compliment of 121 officers and men. She carried 18 x 6 pounder guns, although the armament may well have been replaced by 18 x 32 pounder carronades sometime after her capture. Her dimensions were as follows: 102' 10" long, 85' 4" keel length, 27' 9" wide, 12' 11.5" draught.

Scale kit description
The kit features the following: This intermediate kit would be suitable for anyone who has previous model building experience. Kit includes 18 Brass 6pdr guns, walnut CNC cut parts, Double plank on bulkhead hull, black and natural hemp for rigging, full size plans and comprehensive instruction manual. Kit is shown as fitted out for Royal Navy service.

CAUTION!! Although these are high quality ship model kits, they may not be suitable for some one not familiar with building of wooden model ship kits. See more.