Ship model San Ildefonso, historic wooden static kit Occre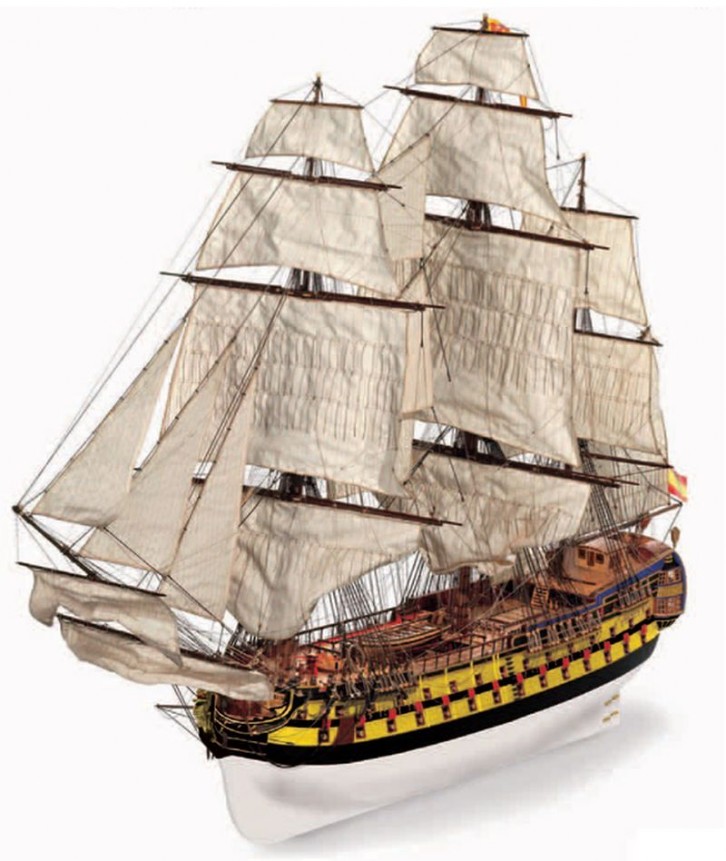 Specification
Scale 1:70


Length: 1250 mm


Height: 895 mm


Difficulty: 3


Part No.: OC15004

San Ildefonso ship model
San Ildefonso – one of the fastest ships in the Spanish fleet in Trafalgar battle.

Scale 1:70, Length: 1250 mm, Height: 895 mm
Display scale kit difficulty: 3

Ship history
In 1784 Work on the construction of the ship San Ildefonso began in Cartagena, based on a design by José Romero de Landa, who had been asked to build a 74-gun ship that would serve as a prototype for the future vessels of the Spanish Royal Navy, and under his direction. Following favourable reports from her sea trials, she was adopted as the model for another seven ships that were built over the coming years, and which came to be known as the "lldefonsinos".
After seeing action on numerous occasions, both in the Mediterranean Squadron and the Ocean Squadron, she took part in the battles of Cape St. Vincent, in 1797, and Trafalgar, in 1805. At Trafalgar, under Commodore Don José Vargas, and forming a part of the combined fleet's observation squadron, she was one of the fastest in the fleet, 34 of her crew members were killed and another 148 wounded.
Immerse yourself in the world of ship modelling and enjoy a journey back to the age of these marvelous ships with our kit models.
See how, step by step, you can replicate a model down to the finest detail and faithful to the original ship. We invite you to let yourself get carried away and set up spaces for creative leisure in which you can enjoy this marvellous model ship.


Scale kit description
The kit features the following: This advanced kit is suitable for ship kit builders who previously built two or more models of a similar style. Standard plank on frame hull construction, utilize walnut, maple and lime wood. Figure head, caryatids, angels & other ornamentations in cast or pressed brass, sails. All dead eyes, blocks, etc. are in walnut. Flags printed on silk, standing & running in black & natural rope. All lanterns, cannon, anchors, hinge & strops made in metal. Fully detailed building plans with English instructions.

CAUTION!! Although these are high quality ship model kits, they may not be suitable for some one not familiar with building of wooden model ship kits. See more.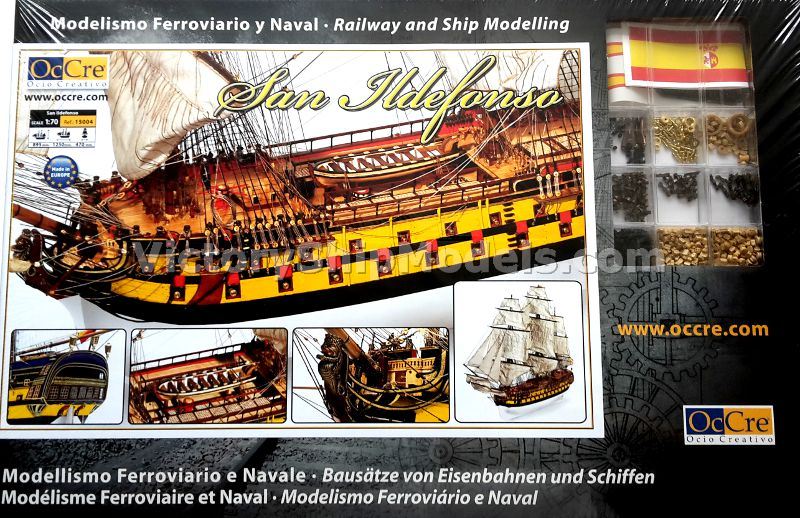 Retail box in pictures - overview
Wooden planks and parts, accessories, documentation.

Open box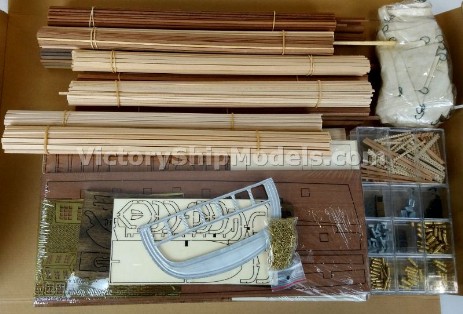 Open box
Open box
Open box