Ship model Montanes, historic wooden static kit Occre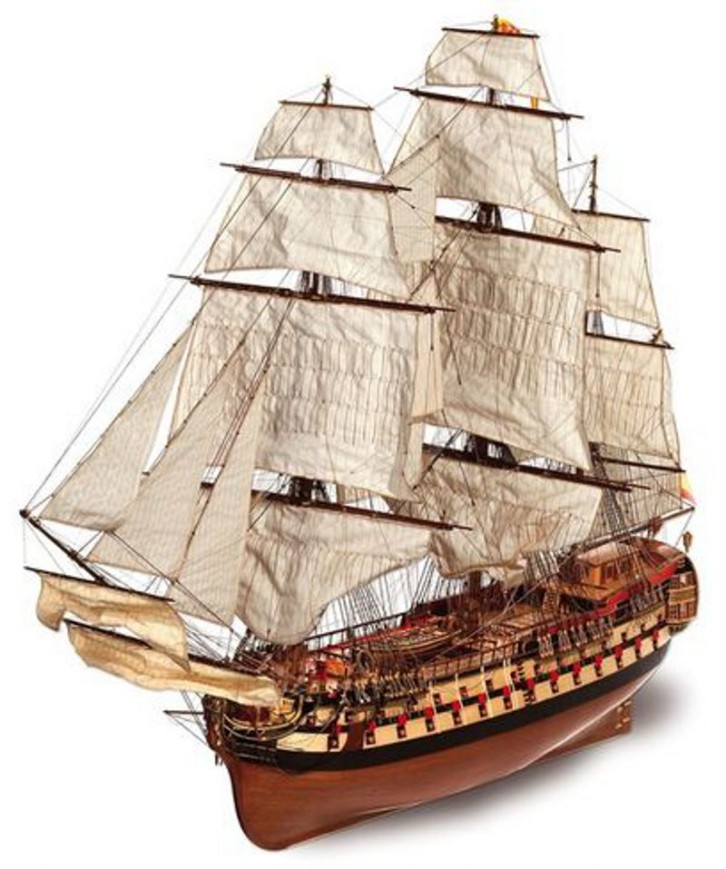 Specification
Scale 1:70


Length: 1250 mm


Height: 895 mm


Difficulty: 3


Part No.: OC15000

Montanes ship model
Montanes represents the maximum level of perfection achieved by Spanish naval architectureone.

Scale 1:70, Length: 1250 mm, Height: 895 mm
Display scale kit difficulty: 3

Ship history
The "Montañés" represents the maximum level of perfection achieved by Spanish naval architecture, when Spanish ships of the line were a match for those of any navy in the world. The figurehead of this ship is not the royal lion but a "montañes" (highlander), in gratitude for the financial contribution towards her construction made by the people of the mountains.
She was launched in Ferrol on 14th May 1794. It is said that she was an extraordinary vessel, whether sailing close to the wind, running free or with a following wind, and that, more than any other ship, she kept her batteries out of the water. She was engaged in a number of battles, including Trafalgar, where she mounted 76 guns and 4 carronades with mortars, located on her quarter deck. On 6th March 1810, in a violent storm, she sank off the Bay of Cadiz.
Discover one of the jewels of ship modelling, which will allow you to enjoy marvelous moments and relive the age in which these majestic ships sailed the oceans. The reproduction of the model is faithful to the original.

Scale kit description
The kit features the following: This advanced kit is suitable for ship kit builders who previously built two or more models of a similar style. Standard plank on frame hull construction, utilize walnut, maple and lime wood. Figure head, caryatids, angels & other ornamentations in cast or pressed brass, sails. All dead eyes, blocks, etc. are in walnut. Flags printed on silk, standing & running in black & natural rope. All lanterns, cannon, anchors, hinge & strops made in metal. Fully detailed building plans with English instructions.

Our model kits will provide you with all the elements necessary to ensure the reality of your model ship, down to the smallest imaginable naval detail. We hope that you will enjoy your love of ship modelling with the Montañés, a splendid model ship that will provide you with lengthy periods of creative leisure.

CAUTION!! Although these are high quality ship model kits, they may not be suitable for some one not familiar with building of wooden model ship kits. See more.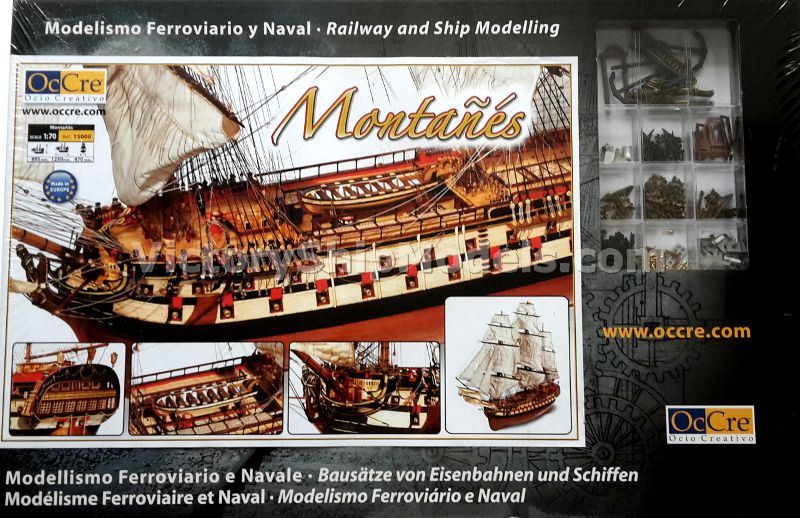 Ship model Montanes is favorite wooden scale kit from Occre manufacturer. It is popular for its good quality and the customers often buy it as a valuable and nice gift. Scale model kit Montanes from Occre contains necessary building material and parts. That is why the modeler can focused only on building of this nice wooden tall ship model. VictoryShipModels.com selects and offer only the best ship model kits. Ship model Montanes is one of them.