Ship model Bounty, historic wooden static kit Occre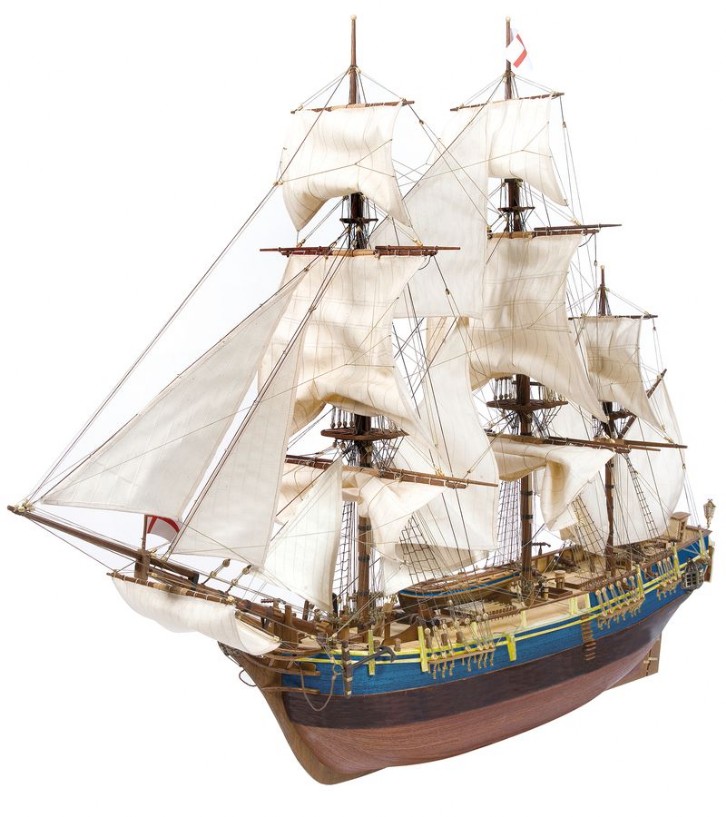 Specification
Scale 1:45


Length: 915 mm


Height: 720 mm


Difficulty: 3


Part No.: OC14006

Bounty ship model
Bounty was the well-known due to mutiny on this ship board.

Scale 1:45, Length: 915 mm, Height: 720 mm
Display scale kit difficulty: 2

Ship history
Built in 1783 as a cargo ship, in 1787 she was purchased by the Royal Navy for the transporting of breadfruit from Tahiti to the Caribbean. The breadfruit was supposed to serve as cheap food for the slaves that worked in the sugar cane plantations.
She set sail from England on 23rd December 1787, under the captaincy of Captain William Bligh. After a 10 month voyage she finally arrived in Tahiti, later than planned. As a result of this delay they then had to wait 5 months before setting sail for the Caribbean, her final destination. During this voyage there was a mutiny on board the ship, led by Fletcher Christian. The mutineers then ordered Captain Bligh, along with 18 loyal seamen, aboard the ship's launch and cast them adrift. Bligh managed the heroic exploit of reaching the island of Timor, after 41 days at sea.

Scale kit description
The kit features the following: This intermediate kit would be suitable for anyone who has previous model building experience. A plank on frame hull construction, building plans with general details, English instructions, lost wax brass castings walnut or lime planking, wooden masts and spars, brass and walnut fittings, etched brass details, rigging cord, sails and silk flag. All sheet ply sections are laser cut for accuracy.

CAUTION!! Although these are high quality ship model kits, they may not be suitable for some one not familiar with building of wooden model ship kits. See more.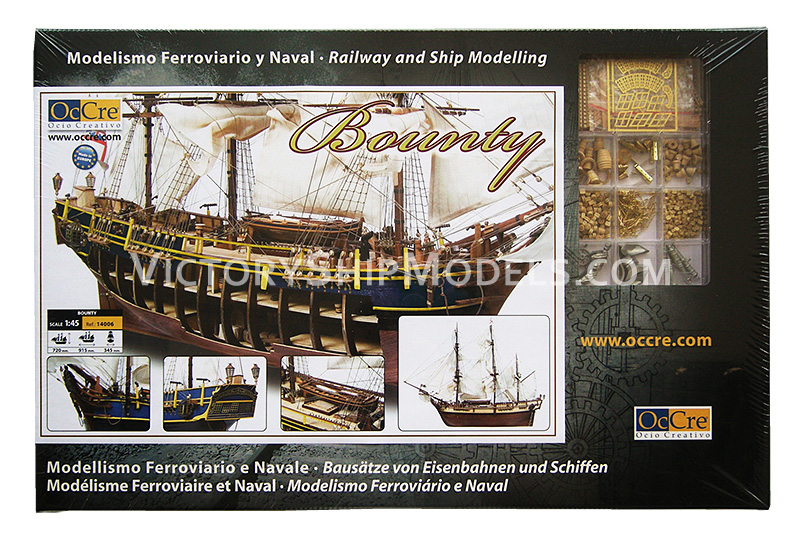 Ship model Bounty is favorite wooden scale kit from Occre manufacturer. It is popular for its good quality and the customers often buy it as a valuable and nice gift. Scale model kit Bounty from Occre contains necessary building material and parts. That is why the modeler can focused only on building of this nice wooden tall ship model. Victoryshipmodels.com selects and offer only the best ship model kits. Ship model bounty is one of them.

Retail box in pictures - overview
Wooden planks and parts, accessories, documentation.

Open box
Wooden parts
Accessories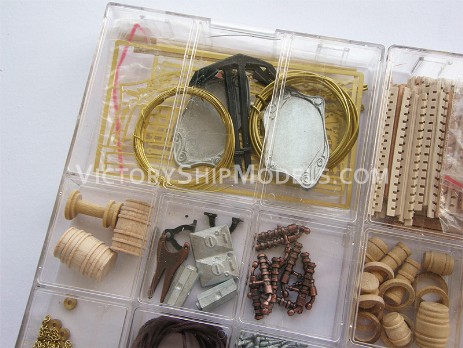 Documentation