Ship model Thermopylae, wooden kit Sergal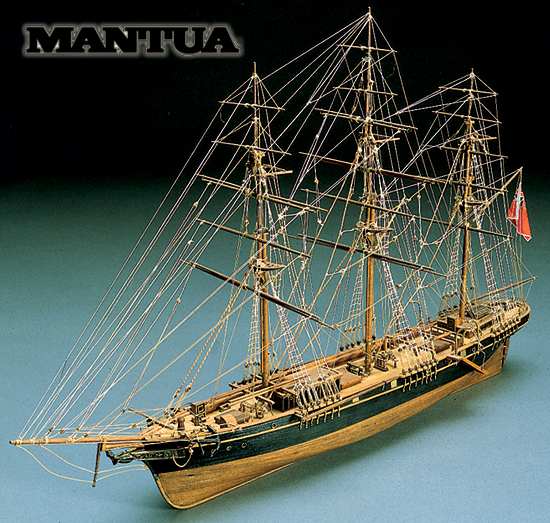 Specification
Scale 1:124


Length: 575 mm


Difficulty: 2


Part No.: MM791

Astrolabe ship model
The Thermopylae was an extreme composite clipper ship built in 1868 by Walter Hood & Co of Aberdeen to the design of Bernard Weymouth of London for the White Star Line of Aberdeen.

Scale 1:124, Length: 571 mm
Display scale kit difficulty: 2

Ship history
The Thermopylae was an extreme composite clipper ship built in 1868 by Walter Hood & Co of Aberdeen to the design of Bernard Weymouth of London for the White Star Line of Aberdeen.
Thermopylae measured 212'0" x 36'0" x 20'9". She was rigged with royal sails, single topgallant and double top-sails.
Thermopylae was designed for the China tea trade, and set speed records on her maiden voyage to Melbourne - 63 days, still the fastest trip under sail. In 1872 she raced the clipper Cutty Sark from Shanghai back to London and won by seven days after Cutty Sark lost her rudder. In 1895 she was sold to Portugal and used as a naval training ship. The Portuguese Navy torpedoed her at sea in 1906.

Scale kit description
The kit features the following: This intermediate kit would be suitable for anyone who has previous model building experience.
A double plank on frame hull construction, building plans with general details, English instructions booklet, lost wax brass castings, walnut and lime planking, wooden masts and spars, brass and walnut fittings, laser etched detailing, rigging cord and silk flag. All sheet ply sections are laser cut for accuracy.

CAUTION!! Although these are high quality ship model kits, they may not be suitable for some one not familiar with building of wooden model ship kits. See more.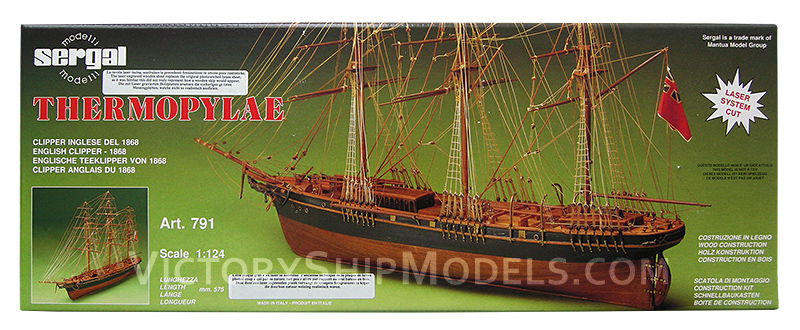 Ship model Thermopylae is favorite wooden scale kit from Mantua - Sergal manufacturer. It is popular for its good quality and the customers often buy it as a valuable and nice gift. Scale model kit Thermopylae from Mantua Sergal contains necessary building material and parts. That is why the modeler can focused only on building of this nice wooden tall ship model. Victoryshipmodels.com selects and offer only the best ship model kits. Ship model Thermopylae is one of them.

Retail box in pictures - overview
Wooden planks and parts, accessories, documentation.