Ship model Le Soleil Royal, wooden kit Sergal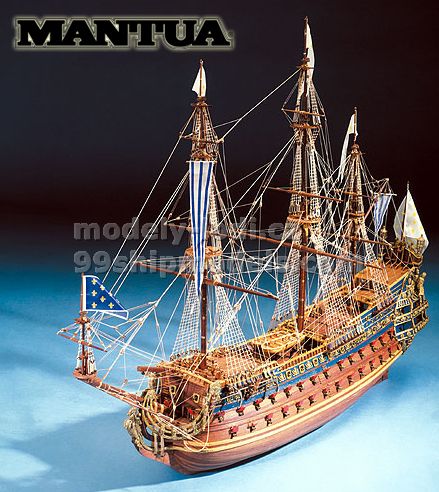 Specification
Scale 1:77


Length: 1030 mm


Height: 765 mm


Difficulty: 3


Part No.: MM796

Le Soleil Royal ship model
The Soleil Royale (Royal Sun) was a French 104-gun ship of the line, flagship of Admiral Tourville. It was a symbol of Royalty.

Scale 1:77, Length: 1030 mm, Height: 765 mm
Display scale kit difficulty: 3

Ship history
The Soleil Royale (Royal Sun) was a French 104-gun ship of the line, flagship of Admiral Tourville. It was a symbol of Royalty.
She was built in Brest between 1669 and 1671 by engineer Laurent Hubac, and commissioned as the flagship of the escadre du Ponant (squadron of the Ponant).
She was said to be a very good sailing ship and her decorations were amongst the most beautiful and elaborate of all baroque flagships.
This ship carried the emblem of the King, Louis XIV, who was arguably the most powerful and certainly the longest reigning king of France. At that time, France was the European leader in maritime sciences and strove to ensure that this ship was the best of its kind in every aspect. Not only was it bigger and faster but it was advanced technologically too. It carried guns higher above the water and had better lines than its contemporaries.
The emblem of the "sun" had been chosen by Louis XIV as his personal symbol.
The battle of Barfleur began on 19th May 1692 and lasted for almost two days. Having been badly damaged she disengaged together with three others and was systematically destroyed by cannon shot and fire by the Anglo/Dutch fleet. It was reported that her destroyers were ashamed to be a part of her destruction.
The Soleil Royale measured about 250 ft. overall and at the waterline she was about 187ft. Her beam was about 51ft. The hull of the ship was painted blue and laced with ornate designs in gold befitting a Kings vessel. The ship's decorations were by the court's painter Charles Le Brun and the carvings were given shape by Antoine Corsevoix. The drawings provided by Chalres Le Brun were interpreted into concrete color sketches by Jean Berain and can still be found in the Louvre Museum in Paris. The quarter gallery and stern had gilt windows and balconies that rose three stories high laden with intricate and ornate designs. Apart from this the Soleil Royale was heavily armored with over 100 guns and 28 36- pounders. Each of these guns weighed 15 tons.

Scale kit description
The kit features the following: This advanced kit is suitable for ship kit builders who previously built two or more models of a similar style.
A double plank on frame hull construction, building plans with general details, English instructions booklet, lost wax brass castings, wooden masts and spars, brass and walnut fittings, etched brass details, rigging cord and silk flags. All sheet ply sections are laser cut for accuracy.

CAUTION!! Although these are high quality ship model kits, they may not be suitable for some one not familiar with building of wooden model ship kits. See more.


Ship model Le Soleil Royal is favorite wooden scale kit from Mantua manufacturer. It is popular for its good quality and the customers often buy it as a valuable and nice gift. Scale model kit Le Soleil Royal from Mantua contains necessary building material and parts. That is why the modeler can focused only on building of this nice wooden tall ship model. Victoryshipmodels.com selects and offer only the best ship model kits. Ship model Le Soleil Royal is one of them.

Retail box in pictures - overview
Wooden planks and parts, accessories, documentation.