Ship model Bounty, wooden kit Sergal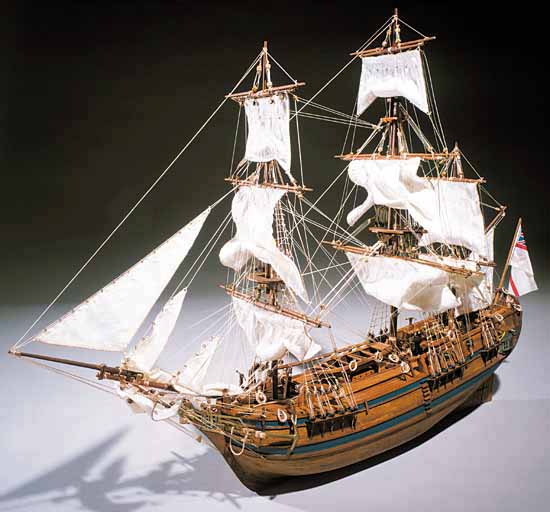 Specification
Scale 1:60


Length: 810 mm


Height: 620 mm


Difficulty: 3


Part No.: MM785

Bounty ship model
Originally privately built and launched as the Bertha, she was sold to the Royal Navy and was renamed Bounty when first commissioned. Sailing out of Bristol in the winter of 1787, her commander William Bligh was 33 years old and together with Fletcher
Christian was destined to become the two main characters in the famous mutiny on 28th. April 1789.

Scale 1:60, Length: 810 mm, Height: 620 mm
Display scale kit difficulty: 3

Ship history
Originally privately built and launched as the Bertha, she was sold to the Royal Navy and was renamed Bounty when first commissioned. Sailing out of Bristol in the winter of 1787, her commander William Bligh was 33 years old and together with Fletcher
Christian was destined to become the two main characters in the famous mutiny on 28th. April 1789.

The name of the Bounty, frigate of the British Navy, is indissolubly tied to its captain's Bligh and to vicissitudes whom caused the crew to mutiny. The ship set out Spit head in December 1787, final destination Tahiti. On the return voyage, owing to the strict discipline imposed by the captain, which clashed with the idle stay in Tahiti, a certain discontent began to spread through the crew and it soon turned into a mutiny. Christian Fletcher, the boatswain, took command of the ship and forced Bligh to embark on a life-boat with 18 still faithful men. After a dangerous navigation for more than 4000 miles, Bligh reached the isle of Timor and afterwards England. The Bounty went back to Tahiti where part of the crew landed. Then it sailed for the Pitcairn Isle where Fletcher and the remaining men settled. Only 20 years later the group landed in Tahiti was captured and tried by the English Court-martial. Only three seamen where condemned, while the others were acquitted.


Scale kit description
The kit features the following: This intermediate kit would be suitable for anyone who has previous model building experience.
A double plank on frame hull construction, building plans with general details, English instructions booklet, lost wax brass castings walnut and lime planking, wooden masts and spars, brass and walnut fittings, laser engraved details, rigging cord, sailcloth and silk flag. All sheet ply sections are laser cut for accuracy.

CAUTION!! Although these are high quality ship model kits, they may not be suitable for some one not familiar with building of wooden model ship kits. See more.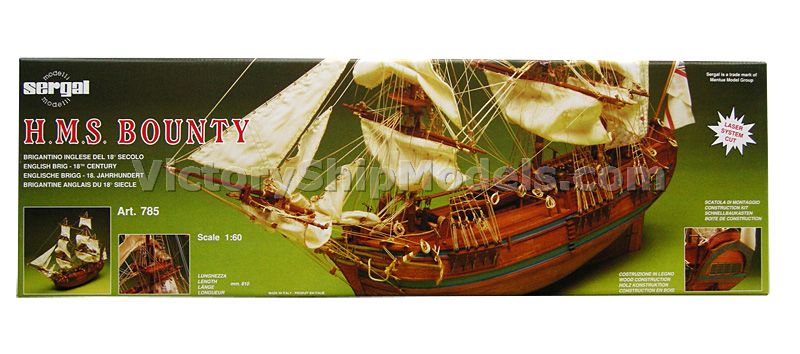 Ship model Bounty is favorite wooden scale kit from Mantua - Sergal manufacturer. It is popular for its good quality and the customers often buy it as a valuable and nice gift. Scale model kit Bounty from Mantua Sergal contains necessary building material and parts. That is why the modeler can focused only on building of this nice wooden tall ship model. Victoryshipmodels.com selects and offer only the best ship model kits. Ship model Bounty is one of them.

Retail box in pictures - overview
Wooden planks and parts, accessories, documentation.