Ship model Peregrine Galley, wooden kit Sergal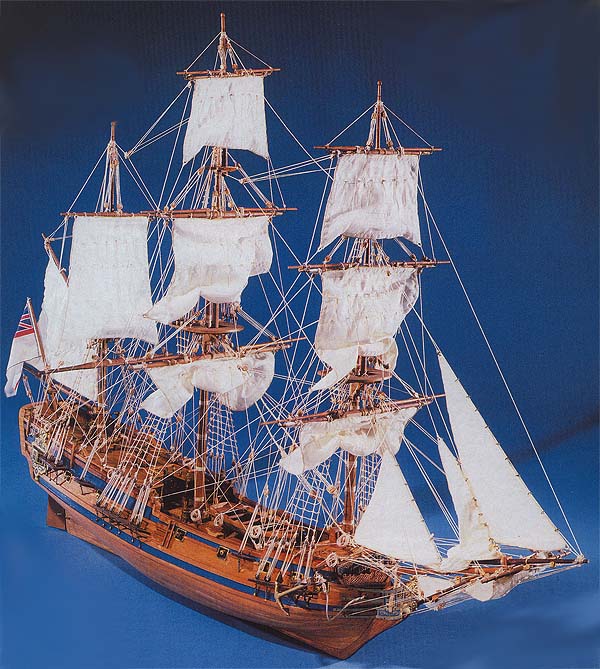 Specification
Scale 1:60


Length: 9250 mm


Height: 630 mm


Difficulty: 3


Part No.: MM786

Paregrine Galley ship model
This fast cruiser was used to connect England with the North American colonies and was generally referred to as one of the "runner class".

Scale 1:60, Length: 925 mm, Height: 630 mm
Display scale kit difficulty: 3

Ship history
This fast cruiser was used to connect England with the North American colonies and was generally referred to as one of the "runner class". She was built at the Deptford dockyard on the river Thames in 1700. She was later rebuilt and renamed the Caroline. When she was disposed of in the mid-18th century, the design was copied and used as a basis for the yacht Royal Caroline which was very similar in overall appearance.

Scale kit description
The kit features the following: This intermediate kit would be suitable for anyone who has previous model building experience.
A double plank on frame hull construction, building plans with general details English instructions booklet, lost wax brass castings, walnut and lime planking, wooden masts and spars, brass and walnut fittings, laser engraved details, rigging cord, sailcloth and silk flag. All sheet ply sections are laser cut for accuracy. Ship holder is included.

CAUTION!! Although these are high quality ship model kits, they may not be suitable for some one not familiar with building of wooden model ship kits. See more.


Ship model Peregrine Galley is favorite wooden scale kit from Mantua manufacturer. It is popular for its good quality and the customers often buy it as a valuable and nice gift. Scale model kit Peregrine Galley from Mantua contains necessary building material and parts. That is why the modeler can focused only on building of this nice wooden tall ship model. Victoryshipmodels.com selects and offer only the best ship model kits. Ship model Peregrine Galley is one of them.

Retail box in pictures - overview
Wooden planks and parts, accessories, documentation.