Ship model Victory, wooden kit Panart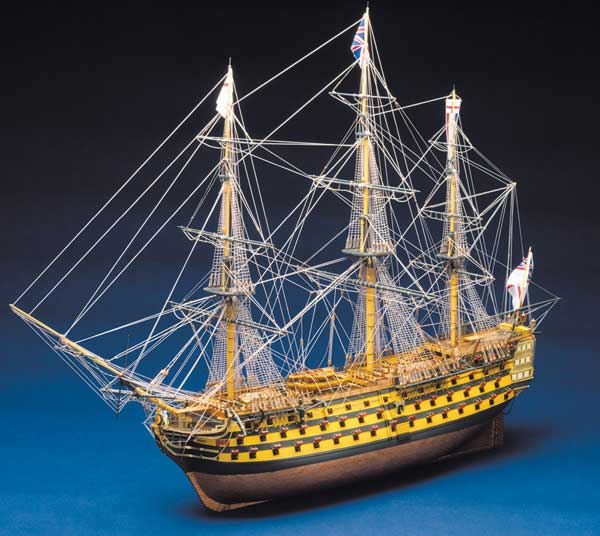 Specification
Scale 1:78


Length: 1300 mm


Height: 920 mm


Difficulty: 3


Part No.: MM738

Victory MM738 ship model
Nelson's Flagship HMS Victory stands today as the world's oldest commissioned warship. Still manned by Officers and Ratings of the Royal Navy, the Victory has seen over 220 years of almost continuous naval service.

Scale 1:78, Length: 1300 mm, Height: 920 mm
Display scale kit difficulty: 3

Ship history
HMS Victory is a 104-gun ship of the line of the Royal Navy, built between 1759 and 1765. She is the oldest naval ship still in commission and the only remaining ship of the line. She sits in dry dock in Portsmouth as a museum ship.

In December 1758, the commissioner of Chatham Dockyard was instructed to prepare a dry dock for the construction of a new 100-gun first-rate ship. This was an unusual occurrence at the time; during the whole of the 18th century only ten were constructed—the Royal Navy preferred smaller and more maneuverable ships and it was unusual for more than two to be in commission simultaneously. The outline plans arrived in June 1759 and were based on HMS Royal George which had been launched at Woolwich Dockyard in 1756.

For full story see our article H.M.S. Victory - Nelson´s flag ship on other place of this site.

Scale kit description
The kit features the following: This advanced kit is suitable for ship kit builders who previously built two or more models of a similar style.
A double plank on frame hull construction, building plans with general details, English instructions booklet, lost wax brass castings walnut or lime planking, wooden masts and spars, brass and walnut fittings, laser engraved details, copper hull plating, rigging cord and silk flag. All sheet ply sections are laser cut for accuracy.

This model differs from the Sergal version in that it includes the Ships boat set and the copper tile hull plating.

CAUTION!! Although these are high quality ship model kits, they may not be suitable for some one not familiar with building of wooden model ship kits. See more.

Ship model Victory 738 is favorite wooden scale kit from Mantua Panart manufacturer. It is popular for its good quality and the customers often buy it as a valuable and nice gift. Scale model kit Victory 738 from Mantua Panart contains necessary building material and parts. That is why the modeler can focused only on building of this nice wooden tall ship model. Victoryshipmodels selects and offer only the best ship model kits. Ship model Victory 738 is one of them.

Retail box in pictures - overview
Wooden planks and parts, accessories, documentation.