Ship model San Felipe, wooden kit Panart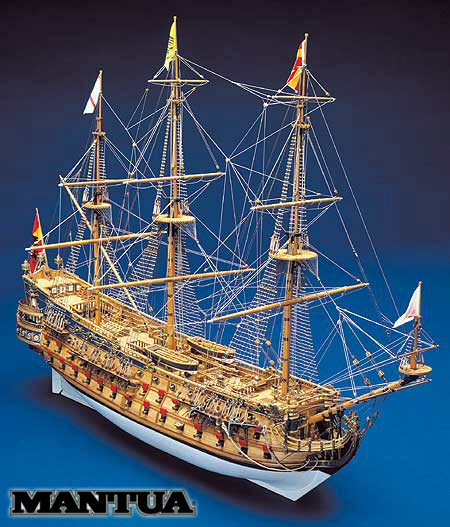 Specification
Scale 1:75


Length: 965 mm


Height: 700 mm


Difficulty: 3


Part No.: MM747

San Felipe model
Said to have been launched in 1690 the San Felipe was the lead ship of the Spanish Armada.

Scale 1:75, Length: 965 mm, Height: 700 mm
Display scale kit difficulty: 3

Ship history
Said to have been launched in 1690 the San Felipe was the lead ship of the Spanish Armada. Although there are debates as to when the ship was actually built owing to lack of proper sources of information, it still generates great interest among model ship builders
The San Felipe was one of the most beautiful Spanish Galleons of the 17th century. Being the lead ship of the famed Spanish Armada it could displace about 1000 tons. Not only was the San Felipe majestic but it could carry 110 guns onboard which made it a formidable challenger against the British and French enemy ships. Funded by the gold collected in the visits to the Americas the Spanish Armada or fleet were the Goliath of their time and deemed practically infallible. But destiny had different plans for the fleet.
In 1705 the San Felipe participated in a furious 24 hour long battle between 12 Spanish ships and 35 British ships and was finally captured by the British. But it was very badly damaged from the fires caused by the British fire ships. It went down at sea, with rumors of several tons of gold inside it. The lack of credible news means we have very little information about this Spanish galleon. Centuries after it sunk to the bottom of the ocean it is still a favorite topic of discussion amongst ship enthusiasts and historians alike. No other ship or galleon in the Spanish fleet generates as much curiosity as the San Felipe and it is still a favorite of ship model collectors and enthusiasts.

Scale kit description
The kit features the following: This advanced kit is suitable for ship kit builders who previously built two or more models of a similar style.
A double plank on frame hull construction, building plans with general details English instructions booklet, 185 sculpted solid bronze parts are cast in the lost wax method, 110 machine turned brass cannons, wooden masts and spars, brass and walnut fittings, etched brass details, rigging cord. All sheet ply sections are laser cut for accuracy.

CAUTION!! Although these are high quality ship model kits, they may not be suitable for some one not familiar with building of wooden model ship kits. See more.


Ship model San Felipe is favorite wooden scale kit from Mantua Panart manufacturer. It is popular for its good quality and the customers often buy it as a valuable and nice gift. Scale model kit San Felipe from Mantua Panart contains necessary building material and parts. That is why the modeler can focused only on building of this nice wooden tall ship model. Victoryshipmodels selects and offer only the best ship model kits. Ship model San Felipe is one of them.

Retail box in pictures - overview
Wooden planks and parts, accessories, documentation.