Columbus's letter on the first voyage is the first known document announcing the results of the first voyage of Christopher Columbus that set out in 1492 and reached the Americas. The letter was ostensibly written by Columbus himself, on February 15, 1493, aboard the
caravel Niña
, while still at sea, on the return leg of his voyage. A post-script was added upon his arrival in Lisbon on March 4, 1493, and it was probably from there that Columbus dispatched two copies of his letter to the Spanish court.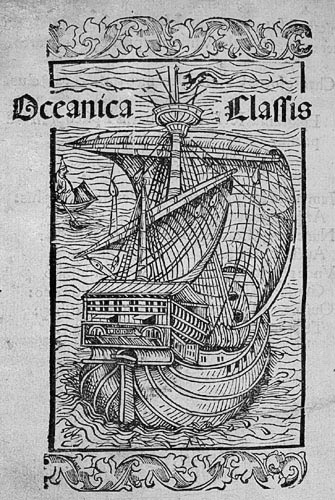 Illustrative woodcut from the Latin edition of Columbus's letter printed in Basel in 1494.
The letter was instrumental in spreading the news throughout Europe about Columbus's voyage. Almost immediately after Columbus's arrival in Spain, printed versions of the letter began to appear. A Spanish version of the letter (presumably addressed to Luis de Santángel), was printed in Barcelona by early April 1493, and a Latin translation (addressed to Gabriel Sanchez) was published in Rome around a month later (ca. May 1493). The Latin version was swiftly disseminated and reprinted in many other locations - Basel, Paris, Antwerp, etc. - still within the first year of his arrival.