Ship model Sovereign of Seas, wooden kit Sergal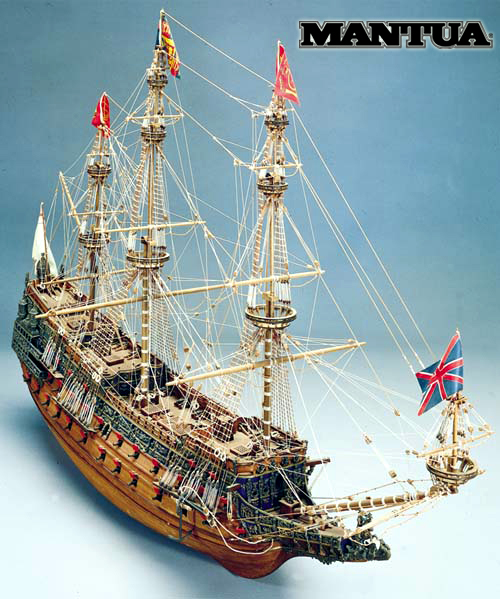 Specification
Scale 1:78


Length: 1100 mm


Height: 865 mm


Difficulty: 3


Part No.: MM787

Sovereign of the Seas ship model
HMS Sovereign of the Seas was a 17th century British Royal Navy first rate ship of the line of 100 guns, later known as just Sovereign and then Royal Sovereign.

Scale 1:78, Length: 1100 mm, Height: 865 mm, Width
Display scale kit difficulty: 3

Ship history
The ship's name was changed twice- first in the year 1650 to "Sovereign" and then to "Royal Sovereign" in 1660.
It was built by Peter Pett (later a Commissioner of the Navy), under the guidance of his father Phineas, the King's master shipwright, and was launched at Woolwich dockyard on October 13, 1637. As the second three-decked first-rate (the first three-decker being Prince Royal of 1610), she was the predecessor of Nelson's Victory, although Revenge, built in 1577 by Mathew Baker, was the inspiration providing the innovation of a single deck devoted entirely to broadside guns.
She was the most extravagantly decorated warship in the Royal Navy, completely adorned from stern to bow with gilded carvings against a black background, and the money spent making her, L65, 586, helped to create the financial crisis for Charles I that contributed to the English Civil War. Charles had imposed a special tax, the "Ship Money", to make possible such large naval expenditure. The gilding alone cost L6, 691, those days the price of an average warship. She carried 102 bronze cannon (Charles explicitly ordered such a high number) and was thereby at the time the most powerfully armed ship in the world. Until 1655 she was also exceptionally large for an English vessel; no other ships of Charles were heavier.
Sovereign became leaky and defective with age during the reign of William III, and was laid up at Chatham, ignominiously ending her days by being burnt to the water line as a result of having been set on fire either by accident, negligence or design.


Scale kit description
The kit features the following: This advanced kit is suitable for ship kit builders who previously built two or more models of a similar style.
A double plank on frame hull construction, building plans with general details, English instructions booklet, lost wax brass castings, walnut and balsa hull planking, wooden masts and spars, brass and walnut fittings, etched brass details, rigging cord and silk flags. All sheet ply sections are laser cut for accuracy. A full color poster is provided with the kit to show the beauty of the finished model.

CAUTION!! Although these are high quality ship model kits, they may not be suitable for some one not familiar with building of wooden model ship kits. See more.


Ship model HMS Sovereign of the Seas is favorite wooden scale kit from Mantua Sergal manufacturer. It is popular for its good quality and the customers often buy it as a valuable and nice gift. Scale model kit HMS Sovereign of the Seas from Mantua Sergal contains necessary building material and parts. That is why the modeler can focused only on building of this nice wooden tall ship model. Victoryshipmodels selects and offer only the best ship model kits. Ship model HMS Sovereign of the Seas is one of them.

Retail box in pictures - overview
Wooden planks and parts, accessories, documentation.